Commission Based Web Development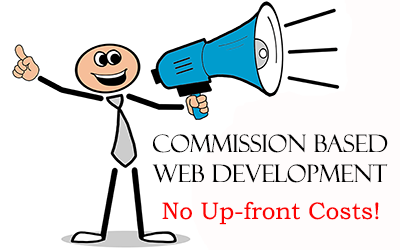 Get a fully featured, E-Commerce website with no development or hosting costs – ever!
Yes, you read that right. You can get a website, have us run it for you, including our hands free WordPress Website Hosting, for free.
After testing the waters with this concept, we have decided to make it a regular part of our website development offerings. Not every business will qualify, and we reserve the right to reject any sites, products or services that we do not believe would generate enough online sales to cover the costs we would incur in developing and hosting.
For businesses that are accepted in to this program, you provide us with some content, business information, and then let us go to work. We build, manage and maintain your website. Customer service, product management, tech support – we take care of it all. In return, we receive a percentage of gross sales generated from your website.
To read more or to apply to this program, please visit this page. If you know you should have online sales to grow your business, but don't want the headaches of running a site, now is the perfect time. Leave the headaches to us – you just pay for the Tylenol with commissions.